Now is the time to launch your text sweepstakes and take advantage of some of the hot sweepstakes trends that brands are currently using to get amazing results.
Along with "what's in" regarding sweepstakes trends, there are also a few trends that are kind of out. Read on for the trends to take advantage of now.
Let's start with what's out…
Out: Organic Only Promotion on Social Media
Organic reach for Facebook pages has been declining for years. So posts on Facebook about your sweepstakes are pretty much guaranteed to reach as few people as possible if you don't promote them. Instagram is heading in this direction too.
With the changes to Facebook's and Instagram's algorithms over the past few years, you really need to run ads for good visibility. While Facebook has been pay-to-play for some time, you need to have a budget in place if you want fast results on either of these platforms.
Out: iPad/iPhones as Sweepstake Prizes
While Apple products are still ever popular, they've become the standard for "an easy prize that appeals to anyone, but doesn't relate to my product or service." In fact, it's the surest way to attract freebie seekers who couldn't care less about your brand.
Out: Long Vacations
While most consumers will be excited to win a free vacation from your brand, sending them on a week-long excursion can get expensive. And remember, once you pass the $5,000 mark for your prize's value, you'll need to register/bond your sweepstakes in New York and Florida, which is an additional expense.
Here's what's trending in…
In: Short Trips
As mentioned, long trips can get expensive. However, a weekend getaway or a 4-day trip as a sweepstakes prize is trending now. Offering your winners a romantic weekend getaway for two or a trip to a theme park for the family is sure to attract plenty of interest from your customers.
In: Trips with Tickets to a Music Festival or Event
Build on that short trip with tickets to a music festival. While Coachella, SXSW or Ultra might be the first to come to mind, there are many other music fests, food & wine festivals and other events that have major appeal as prizes. Make sure you pick one that's a good tie-in to your product or service. Yuengling beer, for example, is prominent in the Florida market and has run a sweepstakes offering tickets to the Riptide Music Festival in Ft Lauderdale.
In: Using Influencers to Promote Your Text Sweepstakes
Using influencers isn't exactly a new trend when it comes to retail. However, using them to promote a text sweepstakes is and this strategy is yielding some great results for brands right now.
Also Read: How to Work With Influencers to Promote Your Sweepstakes
In: Black Friday Sweepstakes
While holiday-related sweepstakes have been popular since the dawn of sweepstakes marketing, we've been seeing more Black Friday holiday shopping sweepstakes like the one on offer now by Martha Stewart Magazine.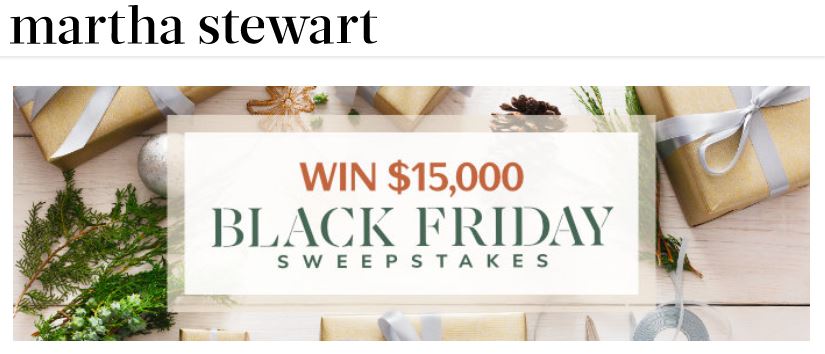 In: ATVs or Polaris® Off-Road Vehicles as Prizes
If your sweepstakes attracts fans of the great outdoors, consider offering ATVs or Polaris® Off-Road Vehicles. These products are in very high demand right now and your customers will be stoked to win one, especially with the holidays coming up.
In: Text to Win
As you may have guessed from reading this post, running a text to win is a great way to boost your brand right now. Marketers are loving it because it's easy to use, convenient, and it works!
See how easy it is to promote your brand with a text to win from Sweeppea! To get started now, see features and pricing.