Have you considered partnering with social media influencers to promote your sweepstakes?
Working with influencers increases brand awareness and the number of entrants for your sweepstakes. Here are some tips on how to successfully promote a sweepstakes by partnering with influencers.
Find Potential Influencers to Promote Your Sweepstakes
There are plenty of ways to find influencers to partner with. The first step is to identify the influencers in your industry or niche. You can use social media marketing tools to search for trending content or ask your customers to recommend their favorite influencers. There are also agencies that specialize in matching brands with influencers.
When choosing, ask yourself: is the influencer's audience a good match for your target market?
Reach Out to Influencers
Once you've identified the influencers you would like to partner with, you'll need to pitch your sweepstakes concept. Have they worked with brands before? Do they have good photo or video skills to carry out a good promotion? What do they charge for sponsored posts? Expect to pay a fee while providing free product. See also if they've worked with any of your competitors previously before you get started.
Draft an Agreement for Sweepstakes Promotion
To sign on influencers, you'll need to draft a contract which specifies how many posts you expect them to create, the primary messages to convey, as well as the dates for their paid promotion. They will know what will appeal to their audience, so it's OK to give them the creative freedom to express your message within certain guidelines. Make sure to also cover your post-giveaway expectations and deliverables.
Most importantly, make sure they follow FTC guidelines to disclose that the post is sponsored. There are also guidelines regarding online contests and sweepstakes.
Let Influencers Run Their Own Sweepstakes
Another option is to give influencers free product so they can run their own giveaways to their fans only. However, there are pros and cons to this approach. On the downside, your company will have less control and will have to run a few of these to reach a bigger potential audience.
You'll also have to take extra steps to ensure they use official rules and follow the other legal requirements for running a sweepstakes. Despite the drawbacks, allowing influencers to run their own giveaways can be extremely beneficial, especially for new product launches.
Influencer Marketing for a Sweepstakes in Action
Now that you know the basics of working with influencers, let's take a look at an example.
M&Ms' Flavor Vote Race
M&Ms recently recently announced new international flavors with a sweepstakes and got a little help from a few Instagram influencers.
Here's the sweeps on its site…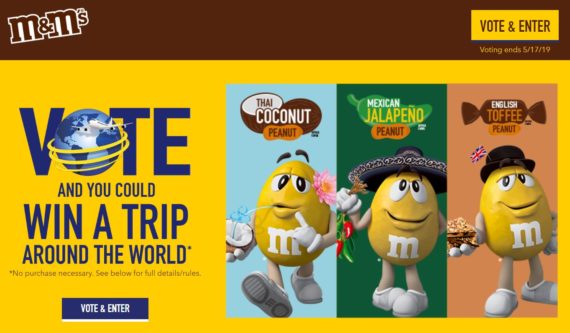 @Pinkonthecheek, a San Francisco blogger partnered with the brand for this promotion…
https://www.instagram.com/p/BumpG7mBfIm/
@Justinreedofficial, a health and family influencer, also promoted the sweeps…
https://www.instagram.com/p/BueTOKqldO8/
Here's a post by @Hyuntxo, a lifestyle and fashion blogger…
https://www.instagram.com/p/BueODyfn4Bm/
As you can see, each influencer promoted the sweepstakes in their own way creatively, while still conveying the M&Ms message. Each post also included hashtags to increase visibility for the post and to follow FTC guidelines, as well as, a call to action to encourage their followers to enter.
Out of all of the ways for influencers to partner with brands, a sweepstakes is one of the most effective. Once you have popular influencers on board and ready to promote your brand, all it takes are a few quick posts on social media to dramatically increase awareness about your sweepstakes and your brand.
Promote your brand with a text to win from Sweeppea! To get started now, see features and pricing.