Part of running a text to win is drawing winners. It's the fun part and the good news is that you don't have to do this manually.
Here is how Sweeppea can help you draw winners automatically for your text to win.
Use Sweeppea's Winner Picker Tool
To make it easier, Sweeppea offers the option to automatically draw winners for your text to win with our winner picker tool. The winner picker tool not only automates drawing winners, it also allows you to choose more than one winner. So weekly or even daily winners can be drawn without you having to do it in real time.
Automatic drawings are simple and convenient. It also makes for one less aspect of your campaign that you have to directly manage.
Daily / Weekly Drawings
With Sweeppea, you'll get full flexibility on how you draw winners for your text to win. You also don't have to wait until the text to win is over to draw winners. In fact, you can draw them at any time during your campaign.
For example, if your text to win has daily or weekly winners, you can just schedule the drawings for daily or weekly under frequency. There's even an option to draw winners on an hourly basis.
Announcing the Winners
Once the platform draws winners, it automatically sends a congratulatory "You've won!" message. You can customize the message to fit your needs. Don't forget to announce your winners once you've confirmed them.
Also Read: Announce Winners to Help Promote Your Sweepstakes
Steps to Automatically Draw Winners
Follow these 7 steps to draw winners automatically for your text to win:
Step 1: From your dashboard, choose "Send Message," then "Draw Winners."
Step 2: Select the number of winners to be drawn.
Step 3: Set the frequency. You can draw winners live (at that moment), at a recurring time (hourly, weekly or monthly), or draw once at a scheduled date/time.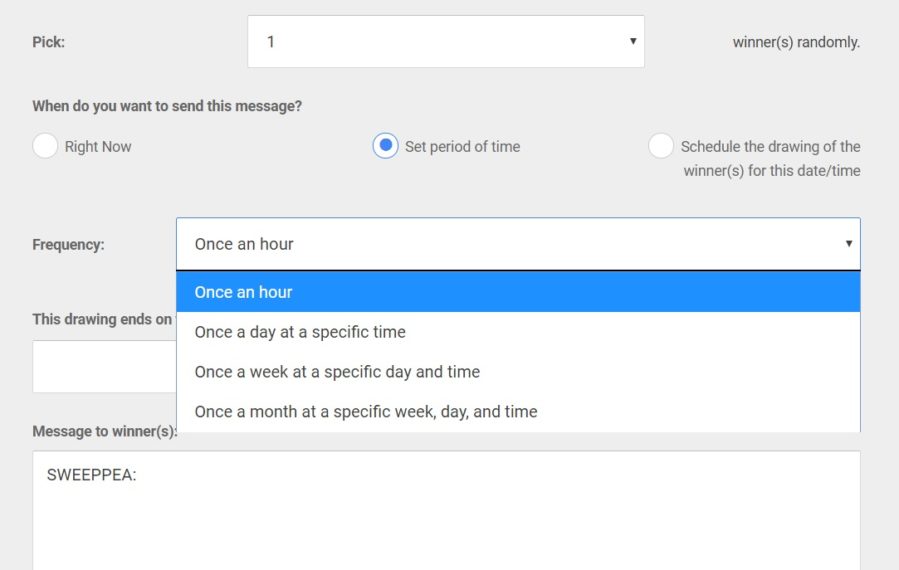 Step 4: Write the "Congrats" text message that will automatically be sent to winners. (Don't forget to tell them how to contact you.)
Step 5: Choose from other sending options, such as selecting from those who've opted out (not recommended), or drawing only from those who completed your entry form (recommended).
Step 6: Save your choices when finished. To see the winners that have been drawn, go to "Participants" and Groups in the left menu. There will be a separate group for winners.
Step 7: As a final step, check the sweeps end or expiration date (under Sweepkey Settings). The expiration date marks the end of the entry period. If you're choosing winners only at the end (instead of weekly, for ex.), they should be chosen AFTER entries are closed or after the expiration date.
Reward your fans with a text to win from Sweeppea! To get started now, see features and pricing.