As a brand, it's your ultimate goal to optimize every aspect of your text to win, while also making sure that you've provided an environment that makes it easy for customers to enter your campaign. For consumer products, this means making your text to win available to customers in a retail environment.
Here are the benefits of advertising a text to win campaign in a retail environment along with a real-life case study.
Attract Interest As You Showcase Your Brand
End caps are the perfect place to showcase your brand in a retail space. Even if you have never run an in-store promotion before, a text to win creates the perfect opportunity to take advantage of the high foot traffic that end caps attract.
We all know end caps and special displays can do a lot to boost, not only the text promotion, but obviously the product itself. This type of promotion can even help you secure this highly prized space in store.
In-store Displays Drive Serious Results, Just Ask King's Hawaiian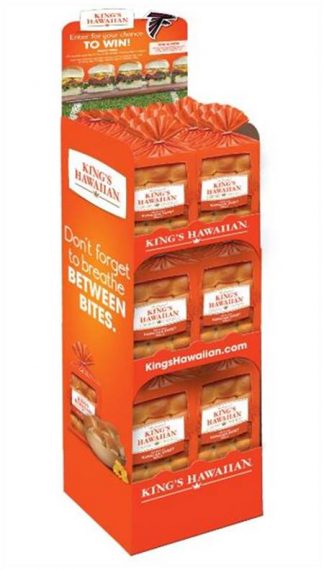 According to Lee Hastings of The Wilson Group, popular food brand King's Hawaiian managed to actually increase sweepstakes entries 35 times compared to previous sweeps by promoting their text to win in retail locations where their products are sold.
The company also benefited from nearly 100% store participation with front lobby displays at the retailers.
Also Read: Case Study: King's Hawaiian and Publix Supermarket Text-to-Win A Trip to the Pro Bowl
In-store Customers Are Ready to Interact With Your Brand
Unlike social media where users often aren't interested in connecting with brands unless they have already decided to shop for a product, in-store customers are more open to learning about your text to win promotion as they shop.
As a result, in-store promotions can yield significant results. First, you can attract new customers to your brand, thanks to special displays. Second, you can also delight and reward existing customers with a chance to win a prize as they pick up your product in the store.
While the "no purchase necessary" rule still applies to text to wins, targeting customers where they shop with an attractive promotion can increase sales.
At the same time, you'll build a list of subscribers that are almost guaranteed to have a significantly higher level of interest in your brand in comparison to sweepstakes leads from other sources.
Delight your customers with a text to win from Sweeppea! To get started now, see features and pricing.