Breweries often go the extra mile to reach their loyal fans. They also use unique promotions to get the word out and connect with new customers. That's where we come in…
Although there are many options when it comes to SMS marketing and text to wins, none come close to the comprehensive solutions we offer to brewery customers.
Here's how Sweeppea is going above and beyond to deliver great results for America's top breweries.
5 Reasons Why Breweries Love Sweeppea
1. Ease of Use
Sweeppea's all-in-one solution makes it super easy to set up and run a text to win promotion. We can also take care of all of legal compliance concerns that can make running an alcohol text sweepstakes complicated.
2. Increased Brand Awareness
Breweries are always on the lookout for ways to get the word out about their brands. With a text to win, breweries benefit from an incentivized promotion that adds excitement for consumers.
3. Distributors Recommend Us
Distributors recommend that breweries run text to win promotions with Sweeppea, because text sweepstakes help distributors sell more cases.
4. Easy for Customers to Enter From Anywhere
A text to win is super easy for customers to enter, whether they are at home or in a retail or bar/restaurant location, which means more entries.
5. Cost-effective
With a text to win, breweries only pay for the days their sweeps run, so there's no wasted advertising spend.
Sweeppea Works With America's Top Breweries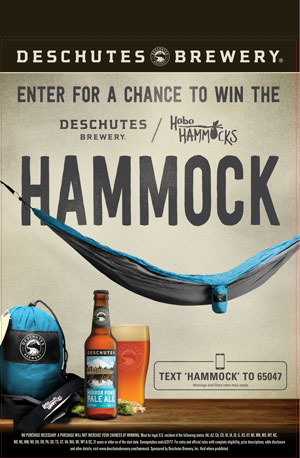 With tangible results delivered for America's most popular craft and beer brands, we're rapidly expanding our customer list.
Here are just a few of the beer brands and breweries that have used Sweeppea:
Budweiser
Bud Light
Backcountry Brewery
Brooklyn Brewery
Ace Cider
Coors Brewing Company
Deschutes Brewery
West Sixth Brewing
Founder Brewing
Grand Teton Brewing
Summit Brewing
Sycamore Brewing
Sufferfest Beer Company
Old Bust Head Brewing Company
Upslope Brewing Company
D. G. Yuengling & Son
We Have More to Share Than Just Software
At Sweeppea, we're much more than a text to win sweepstakes platform.
Thanks to our extensive experience with breweries and alcohol brands, we understand the nuances of running a successful promotion for a beer, wine or spirits company.
With full service, we draft official rules, help navigate registration and bonding in states where they're required, complying with text messaging laws, and ensuring compliance for alcohol brands overall.
Sweeppea has proven itself as an effective solution for breweries, which is why we're the #1 provider of text to win sweepstakes for breweries!
Put our experience to the test for your brewery! To get started with your own text to win, see features and pricing.