Wholly Guacamole Fridge Makeover Sweepstakes is beautifully made, polished and a very creative contest. I love the spokesperson persona of the 50s housewife with white pearls and the talking fridge begging for healthy food and a makeover.
The sweepstakes objectives seem to be two-fold:
1.    Capture name, email and zip code as part of the entry (pretty straightforward)
2.    Provide a discount coupon on purchase (not so straight forward)
Coupon delivery methodology should be streamlined
They do a great job with the branding and messaging but where they stumble is in the coupon delivery methodology. The first hurdle is going through a printer status check list before you can proceed. The list asks you to check your printer for paper, ensure your printer is on, check ink levels and make sure it's connected.
It's pretty crazy to assume that people who intend to print need that many instructions on printing. It's a safe bet that if you have a printer, this is not the first time you are using it. It gets more burdensome… after you check your printer's status, you have to download www.coupons.com app in order to print the coupon. What? Yes, I said the same thing. Download an app to get a coupon?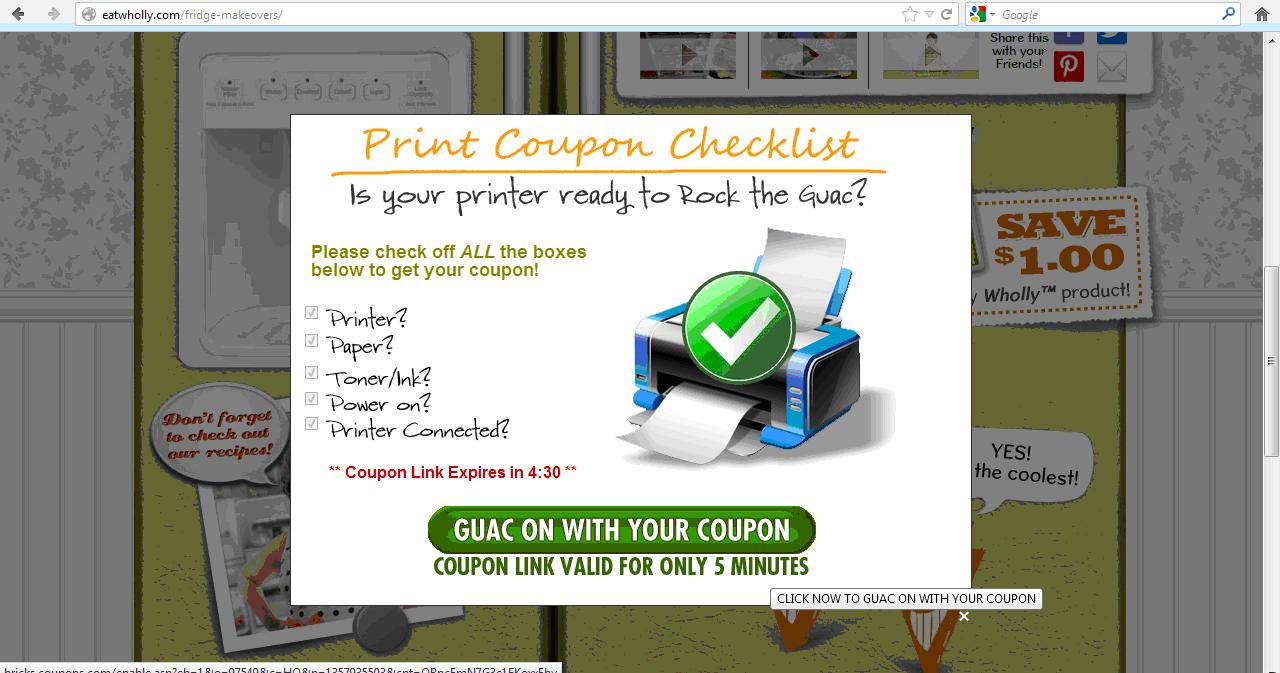 Why do I have to download an app to get a coupon?
My question for Wholly Guacamole is why make it so cumbersome to print a simple coupon? Isn't the goal to get them the coupon as easily as possible so they can use it to buy guacamole? A link to a page where the coupon is will suffice. People know how to print it. Or better yet, add an instant mobile coupon they can request via text message. This way they don't event have to print it and the coupon is on their mobile phone.
Make it easy to get the coupon and join the sweepstakes!
Wholly Guacamole could say "To get this coupon on your phone, text GUAC to 65047." Simple, elegant and effective. The company could then print the mobile coupon call-to-action in all the product packages, website, and social media outlets. And now with the permission to text them, you can send them a text letting them know about the Wholly Guacamole Fridge Makeover Sweepstakes and how they could join from their mobile phone. They could leverage their super nice mobile website by creating a mobile sweepstake entry point.
This sweepstakes would benefit tremendously from mobile since it bridges the gap between the purchase at the retail store and the online world by letting the consumer easily pull the coupon on the go or from the website.