That's me at a Sedano's Supermarket trying to scan a QR code from a Coca Cola display. Although the QR code image in the display seems prominent, I'm on my tippy toes. It seems to be the only way to scan the code and a few people around me were staring.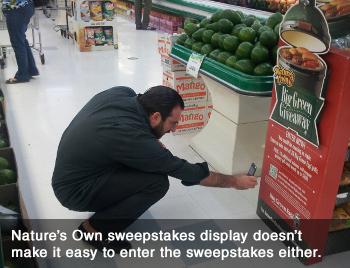 Here I'm trying to enter the Nature's Own "Big Green Giveaway" for a ceramic grill. I'm squatting and pointing and waiting for the QR reader to decipher the code. This process takes about 30 seconds and it's embarrassing to squat there waiting for it to take me to a page with an entry from.
And the same exercise is happing here for the Florida's Lottery sweepstakes.
All of these companies want you to use your mobile device to enter or at least start the entry process and that, in theory, is a great idea. At this point more than half of the US population has smartphones, which are capable of scanning QR codes.
Capable of scanning a QR code does not mean functional
Where these companies fail is in the integration of mobile into the real world of the consumer shopping experience. As you can see, scanning these codes require first a smartphone, then a QR code app to decode the QR code, along with the muscle flexibility and willingness to embarrass yourself in public for the sake of a QR scan.
They are spending lots of money designing, printing and placing ads for the sweepstakes without realizing that the real world experience of scanning a QR code from a display is pretty awful. And worst of all, none of the ads have a website address so if I can't squat or scan, I can't enter the sweepstakes online either.
Easy for marketers, but what about consumers?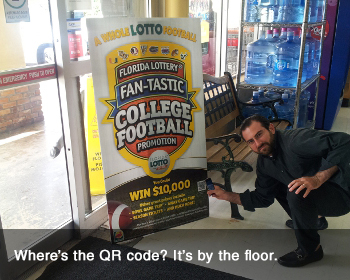 Part of the problem lies in the nature of QR codes. Since QR codes are free to make and simple to produce, marketers can simply slap a code on the ad, display or package and say, "Now we are doing mobile" and go home satisfied with their work. Failing to see how it plays out in the physical world means they miss out many more entries to the contest.
What about making the QR code easier to scan by placing it in a better, more accessible place? This would help, but in reality displays aren't always displayed as intended and the consumer still has a few hurdles. They have to first understand what the QR code is and what they're supposed to do with it, have a QR reader app on their smartphone and finally, be willing and able to scan it in public. When was the last time you scanned a QR code? The average consumer has never scanned a QR code in his life, much less owned a QR reader.
Adoption rate isn't there yet
But do you know what kind of mobile technology they are very familiar with? You guessed it… text messages. According to Pew Internet, currently 79% of cell phone owners use text. Compare this to 9% of adults in the US who have used a QR code, according to eMarketer. Instead of asking consumers to literally bend, squat, stretch and risk looking like a weirdo, why don't companies simply ask the consumer to send a text message? Anyone can read and comfortably send a text privately. The system can respond with an entry confirmation or a link to a mobile entry form. Done! Barriers removed for the consumer and more sweepstakes entries for the marketer. Pet Supermarket has it right. Budwesier has it right as well.
The beauty of text
The beauty of using text for a sweepstakes entry is that it makes the process simple, fast and a lot more fun. Each mobile phone number is unique and serves as the identifier for the winner. Plus text entries come with an awesome benefit for marketers. They capture the most important number in a customer's life… their mobile phone. Texting in a sweepstakes entry is the fastest and most effective way to open the door to communicating with the mobile consumer. With permission granted, the company can now directly reach that consumer with additional products or relevant offers and, more importantly, to notify them if they win.
PS: To be fair to Sedano's Supermarkets and Coca Cola, the contest rules' fine print on the boxes says you can scan, visit a URL or text in your entry. But consumers shouldn't have to squint their eyes and read the fine print to see this.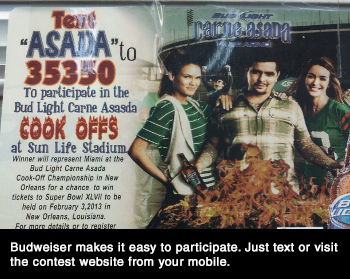 Do you scan QR codes? Tell us in a comment below.