Oak Ridge Winery in Lodi, California knows the holidays are a stressful time and offered to help with their holiday sweepstakes.
National Reach with a Personal Feel
OZV Zinfandel, one of Oak Ridge's best selling wines was positioned across it's national retail footprint just in time for the holiday season. At a time most wine companies are presenting themselves as great gift ideas, OZV Zinfandel offered to be your holiday helper.
Retail Display Messaging
The winery set up displays in store appealing to the stressed-out holiday shopper. Knowing that the season comes with it's usual problems, Oak Ridge Winery made an effort to empathize and support its potential customer by offering a chance to win $5,000 cash for the holidays. The brand appealed to the consumer's emotional side with this sweepstakes promotion.

Made for the On-the-Go Shopper 
The holidays are a busy season with a lot of advertising competing for the consumers' attention and Oak Ridge Winery knew this. To boost engagement and accommodate the on-the-go shopper, the brand's sales and marketing team reached out to Sweeppea to help create a text-to-win sweepstakes that would allow shoppers to enter by simply sending a text message with the word OZV to the number 65047.
Entry Page with Age Gate for Alcohol Sponsors
All alcohol sponsors are required by law to ask participants to confirm they're 21 or older at the time of sweepstakes entry. Sweeppea's Entry Page asks for date-of-birth to comply with the law, but also to provide further insights on entrants. If the participant is under 21 year of age, they're not allowed to enter.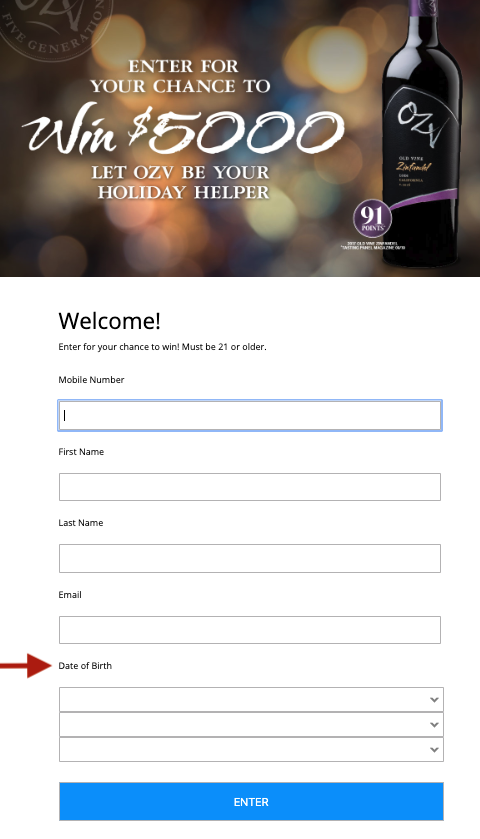 Sweepstakes Administration Services
Sweeppea helped create the Official Rules, provided POS ad reviews, winner drawing, age-gating, rules compliance verification, prize acceptance, publicity and liability release.  Overall, Oak Ridge Winery enjoyed a successful promotion. In the end, we raised a glass of zinfandel and toasted one of Lodi, California's iconic winemakers.
Objective:
Build awareness for the brand among consumers
Engage on-the-go customers
Increase case orders
Promotional Channels:
In-store materials at POS
Outcome:
Case orders increased
A database of customers with name, age, mobile, and email was gained.
Prize: A check for $5,000 to one lucky winner.