Norms Restaurants, the Southern California diner-style restaurant and icon was celebrating its 70th Anniversary and wanted to offer patrons a chance to win $70,000 in cash. Besides creating buzz and excitement with such a large prize, Norms wanted to increase restaurant traffic and add new members to its 24/& Rewards club for all 20 locations.
Marketing Objectives
Norms' marketing agency, Brandtailers, was tasked with creating the promotion. Brandtailers planned the sweepstakes concept and reached out to Sweeppea to help launch and administer the text to win sweepstakes. Working with Norms' marketing department, Brandtailers designed the creative and media placement. Norms leveraged their established social channels, website, email and in-restaurant TV displays to offer the promotion to all patrons and followers.
Sales Objective
Leveraging the excitement of the promotion, Norms offered a $5 Off $25 coupon available to everyone who entered the sweepstakes. This coupon could be redeemed on the next visit, helping increase repeat business while guaranteeing a minimum purchase of $25 per order. The Sweeppea sweepstakes platform provided the "Thank You" page with the $5 off coupon that was shown to all participants who completed the Entry form.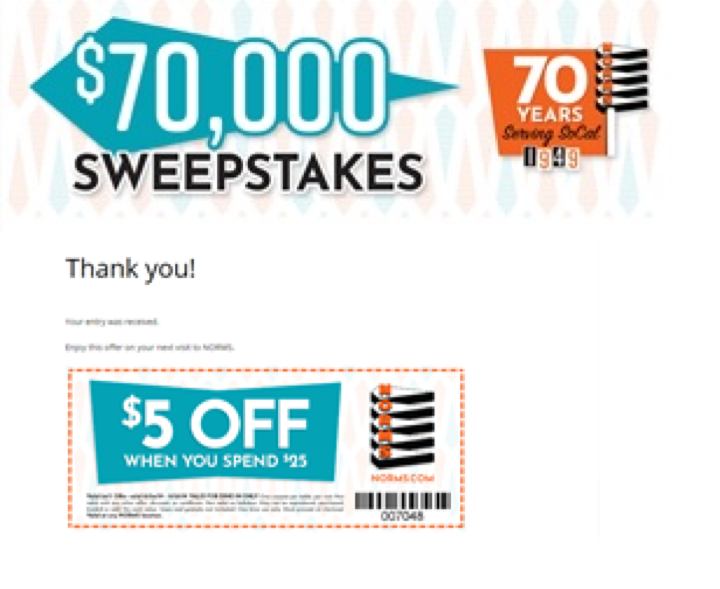 "Thank You for Entering" Page with $5 Off coupon
How to Offer a $70K Cash Prize
Norms knows that everyone loves giving (and receiving) big cash prizes. Using Sweeppea's Prize Indemnity Insurance, the restaurant chain was able to offer 1 winner a chance to win a $70,000 Grand Prize, a $25,000 secondary prize or a guaranteed $700 cash prize. They did this while paying only a portion of the prize's cost. Sweeppea provided prize insurance which, through a game of chance, insures the Sponsor on a large prize payout. In the event that the winner drew the large cash prize, Sweeppea would pay for it through the insurance. This way the Sponsor can offer exciting, anniversary-worthy sweepstakes prizes, without worrying about a large cash payout.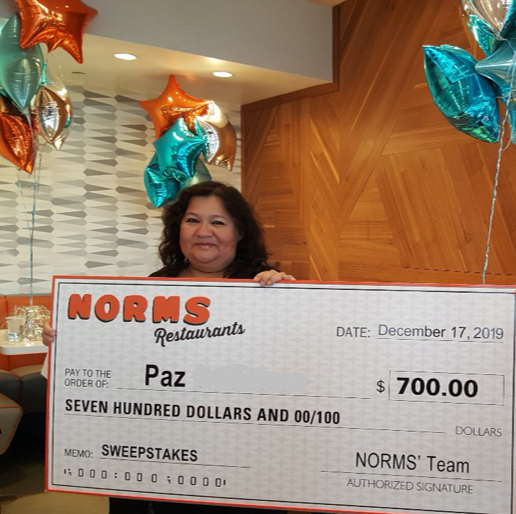 NORMS 70th Anniversary Sweepstakes winner
Sweepstakes Entry Method
Norms chose the text-to-win style of sweepstakes entry method to increase participation rates and make it easy for patrons to enter while sitting at the restaurant's famous booths. Placing the call-to-action "Text NORMS to 65047 for a chance to win $70,000″ at display locations in each restaurant encouraged guests to enter and offered instructions on how to do so from their mobile phones. After participants entered, they'd get a link to an Entry Page.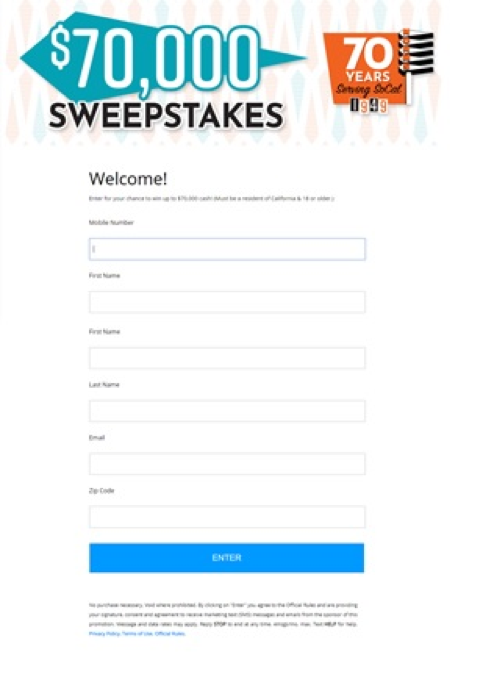 Entry page captures the name, mobile number, email and zip code of the participant.
Sweepstakes Services

Sweeppea handled POS ad reviews, winner drawing, rules compliance verification, prize acceptance, publicity and liability release, and prize delivery. It was a successful promotion for one of L.A.'s most iconic diners and we look forward to celebrating many more anniversaries.
Objective
Celebrate the brand's 70th Anniversary
Increase restaurant foot-traffic
Increase sales
Increase loyalty program membership
Promotional Channels
In-store materials at cash register
In-store TV display screens
In-store door glass clings
Social Media
Website
Email
Outcome
Coupon redemption happiness. (We were not privy to the redemption rates, but we know the client was very happy.)
NORM'S 24/7 Reward Club increased membership.
Thousands of participants entered over the 2 month period.
A database of customers with name, age, zip code and email was gained, giving Norms insights into who their customers are today.
Prizes: One (1) Grand Prize will be awarded at the end of the promotion. Prizes available include a prize of a check for $70,000 (Approximate Retail Value or ARV: $70,000); a prize of a check for $25,000 (ARV: $25,0000); OR a prize of a check for $700 (ARV: $700).
Prize Drawing: The potential winner will be verified once the Administrator confirms eligibility. Once verified, the Winner will be invited to play the "pick 'til you win" lucky envelope game (the Game). The Game consists of the winner choosing from among forty (40) envelopes. Five (5) of the envelopes will contain a certificate for the $70,000 prize, six (6) of the envelopes will contain a certificate for the $25,000 prize, and twenty-nine (29) of the envelopes will contain a certificate for the $700 prize. The Winner will choose and open one (1) envelope at a time, revealing the prize certificate contained. The Winner wins the prize associated with the amount designated by the first five (5) matching certificates revealed in the Game.