More than 17,000 art lovers from South Florida and around the world converged on Miami Beach recently for the Miami International Art Fair. As fairgoers browsed through more than 1,000 pieces of fine art, sculpture and new media on display, they also received texts.
Like this one…
"Don't miss "Transcending National Barriers: Pioneers of Geometric Abstraction in South and North America" a lecture with Mary Kate O'Hare at 1:30pm"
Art lectures, book signings and even live painting were all events promoted by mobile marketing texts.
By texting the word "ART" to 65047, guests not only received updates on events, they also entered a contest for a Regent Cruise. But this was not your average cruise! It was a 14-day luxury cruise from Bali to Beijing. Lucky winner.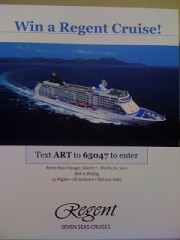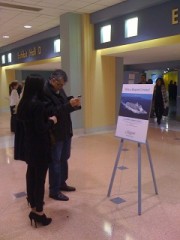 Lee Ann Lester, co-founder and director of the fair, was enthused by mobile marketing results and plans to continue using text messages at the next fair: Art Palm Beach. Overall, the Miami International Art Fair was a great example of how mobile marketing can be used to promote events, contests and brands overall.
A few of the successful strategies used in this text message campaign:
Using a contest to encourage signup
Posting signage to promote the text message channel
Sending messages pre-event and mid-event without being excessive
Building a mobile marketing list of art lovers and buyers
Using the last text message of the event to promote the next event!
Need ideas for your own business? Let us know.