Left Hand Brewing, one of Colorado's most beloved breweries was looking to launch its new summer flavor "Wheels Gose 'Round". The crisp raspberry and lemon Gose wheat style beer designed to help raise awareness for Multiple Sclerosis research and quench the thirst of  Team Left Hand Bike MS riders.
Following the MS bicycle ride theme, Left Hand created a text to win sweepstakes for a chance to win a cooler with wheels that attaches to a bicycle. Marrying a new a product launch with a tie-in to Multiple Sclerosis research support.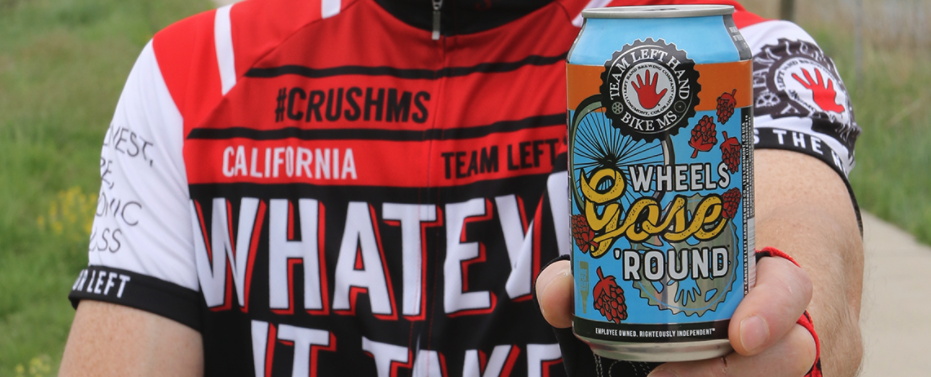 Social Media Marketing On Facebook, Instagram, and Twitter
Left Hand promoted its text to win sweepstakes using their existing social media channels with the focus of promoting the product, cause and engaging new followers.
Below are examples the posts on Facebook, Instagram and Twitter.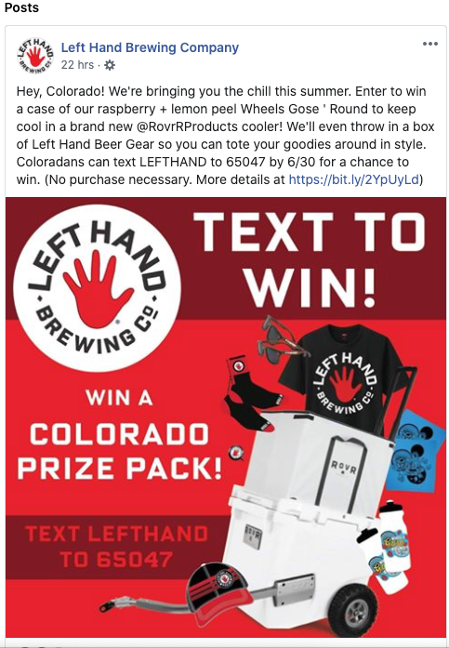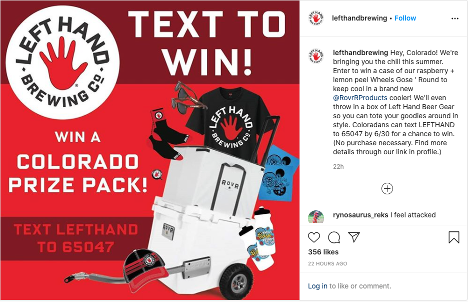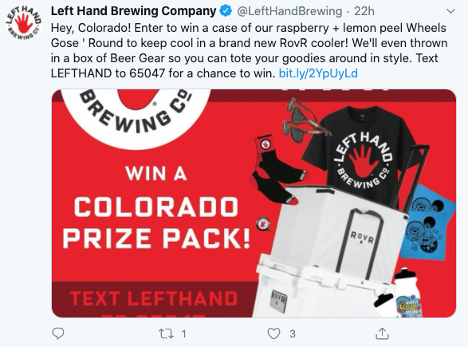 Goal – Awareness and Followers
The brewery wanted to reach loyal fans to bring awareness to the cause and to its new summer flavor. Leveraging Sweeppea's text to win sweepstakes platform, Left Hands' ad agency, Propensity Media, was able to create a sweepstakes that reached the target audience with a fun and engaging promotion. Most of the advertising was done via social media to help increase followers by offering an exciting prize. The prize (Rovr Roll45 Cooler with Bike attachment + swag) incentive drove shares across all social channels.
Sweepstakes Entry Page – Quick and Easy
The Sponsor placed ads in social media and in-store. To enter the text to win sweepstakes, all the participant had to do was to simply text the word LEFTHAND to the number 65047 for a chance to win. Each entrant then received a link to the branded Entry Page (below), where they could complete their entry by submitting their name, age (required for all alcohol sponsors) and email The mobile numbers were automatically captured by the Sweeppea Platform.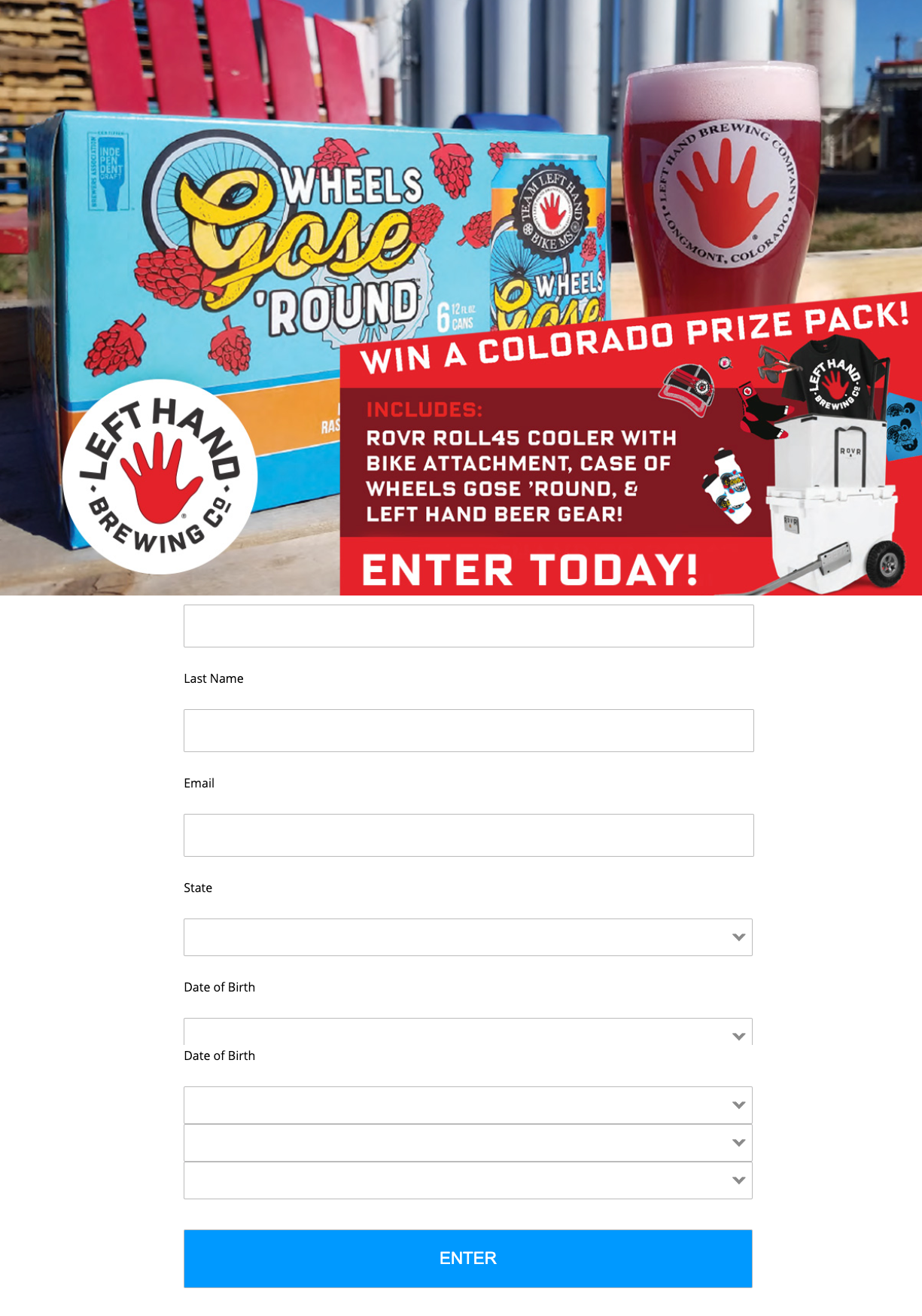 Conclusion
Leveraging your existing social media channels to educate your customers on new products and reach new beer fans, while positioning your brand as a company that supports a national cause is a win-win for all. Cheers to Left Hand Brewery!
Objectives
New Product Launch
Cause Awareness
Increase Followers
Results
Hundreds of Participants Entered
Social Media Followers Increased
Winners: 1
Prize
Prize(s): One (1) Grand Prize Winner will be awarded a Colorado Prize Pack, consisting of: One (1) Rovr Roll45 Cooler with Bike attachment, One (1) Left Hand Brewing "Colorado Flag" logo t-shirt; One (1) Team Left Hand cycling socks and snapback hat; Two (2) Wheels Gose 'Round water bottles and two (2) Wheels Gose 'Round bandanas; one (1) Left Hand Brewing bike bell; and two (2) pair logo sunglasses, Approximate Retail Value (ARV) of all prize(s) combined is $580
Why Alcohol Brands Must Take Care With Their Sweepstakes Prizes
To get started with your own text-to-win, see our features and pricing.