The Right Prize
The sweepstakes sponsor, Tipp Distributors, wanted to engage Jarritos's fans by delivering a little holiday cheer to their homes. As a Consumer packaged goods (CPG) brand, Jarritos's target audience was the U.S. Hispanic market. Knowing that Hispanics are of overwhelmingly Christian based faiths, Jarritos knew the target audience would be placing gifts under a Christmas tree.

Brand X Marketing, the promotions agency behind the Christmas tree idea, saw an opportunity in offering a prize that the target market desired and had top-of-mind during the Holidays, -making the Prize a perfect-fit.

The Christmas trees were delivered to the winner's home with a base and a Jarritos branded ornament. Delivery saved the winners (500 of them) the time and effort required to select, buy, and transport a tree, -making the Prize highly desirable as social media comments below attest.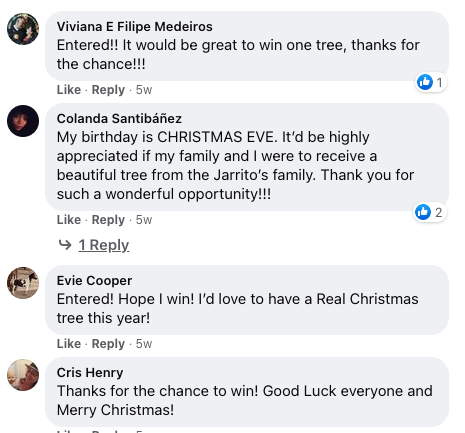 Goal: Delight Fans and Boost Engagement
Brand X's goals for their client were to deliver high sweepstakes participation rates and social engagement across Facebook and Instagram.

BrandX, reached out to Sweeppea for help launching their sweepstakes. To increase participation, Sweeppea leveraged their text to win platform in order to quickly and easily gather sweepstakes participants online and in-store. As a sweepstakes company, Sweeppea delivered full sweepstakes management including drafting the Official Rules, state bonding and registration, winner drawing services and sweepstakes regulatory compliance consulting.
Fans showed their record-breaking enthusiasm by entering the sweepstakes, commenting, and liking the post as seen below.
Most Liked Instagram Post of 2020
Jarritos's Instagram fans showed their enthusiasm for the text to win sweepstakes by participating, commenting and liking the post (see post below).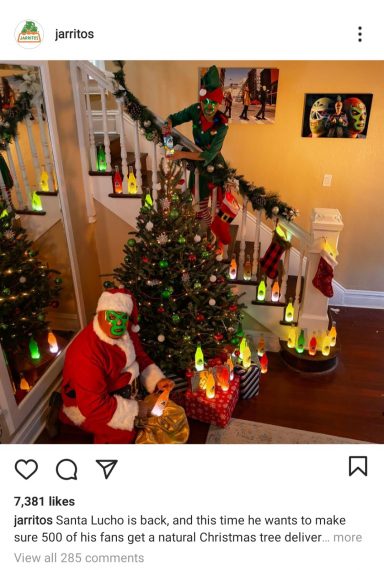 The 2nd Most Liked Facebook Post of 2020
Jarritos's Facebook fans showed their interest by entering the sweepstakes, commenting and liking the post (see post below).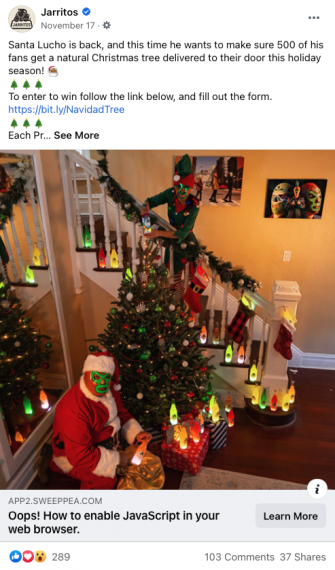 Text to Win Sweepstakes Captured Participants In-store and On Social Media

To enter the text to win sweepstakes, participants simply texted the word NAVIDAD (Christmas in Spanish) to the number 65047 for a chance to win.

Each entrant then received a link (see below) to the branded Entry Page (below), where they could complete their entry by submitting their name and email. The mobile numbers were automatically captured by the Sweeppea Platform.

Text to win allowed the sweepstakes to be offered in a social media as well as in-store displays.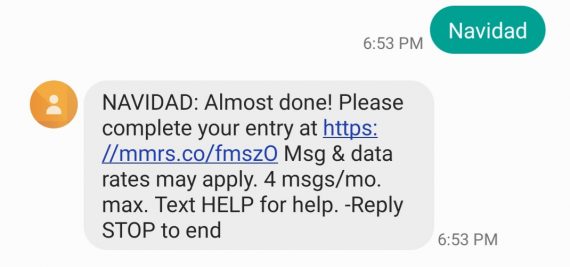 Cheer and Delight Delivered

By leveraging Sweeppea's text to win platform and sweepstakes administration services, Jarritos's sweepstakes promotion reached the target audience in a fun and engaging manner that ultimately boosted social engagement and increased fans.

Using Social Channels to promote your sweepstakes, while positioning your brand front-and-center at retailers is a win-win combination for all.
And to that, we say ¡Felicidades! to Jarritos Soda for a well-executed promotion!
Results Summary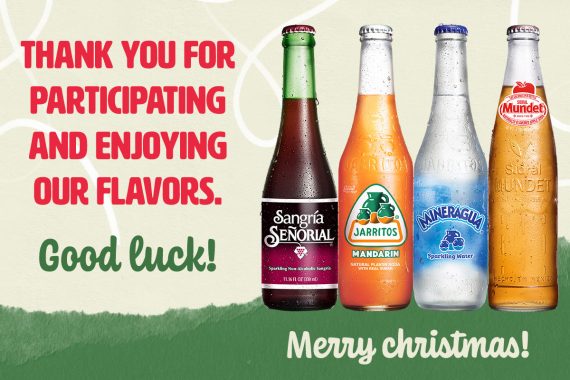 Objectives
Brand Awareness
Increase followers
Results
Sales increased
Thousands of participants entered
Social media followers increased
Opt-In list of mobile and email subscribers gained
To get started with your own text-to-win, see our features and pricing.