Planning a giveaway or text-to-win sweepstakes? You may be wondering…
What should I offer as a  prize?
What will excite my customers and prospects?
How should I set it up?
These can be answered in many ways, so how about answers with a little inspiration from big brands?
What Should I Give Away?
We suggest offering a prize that's relevant to your product or service. Your own product or a service package can be a great prize.
Will your own product be enough to excite your customers or prospects? While we'd like to say yes, this can be a challenge if you sell a low-cost consumer good or inexpensive service. You may need to get a little creative or offer a prize with a bigger dollar value to really incentivize consumers to sign up.
Here are a few examples of both product prizes and higher ticket items:
Twisted Tea Offers Branded Motorcycle
This brand added a little "twist" on the typical prize vehicle with a branded motorcycle. It's a unique way to go beyond its own product, while still offering a branded item.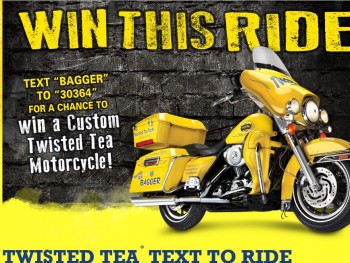 SUBWAY Gives Away Subs – Lots and Lots of Subs
Subway offered its own subs as a prize… every 15 minutes!  This translated to 96 winners per day or 2,976 total. While not every business can give away this much product, it's a good example of how to be creative when offering your own item. Consumers could enter by text or online.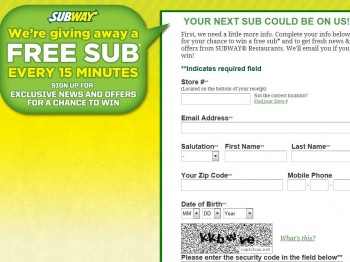 Free Pet Food for a Year From Pet Supermarket 
Another creative way to give away product is to offer a full year's worth. Who wouldn't want to win free product for a year? And it isn't as expensive as it sounds. Offer a set amount for each month (a free bag or case of dog food, for example, or a $25 gift certificate for each month). This will limit your costs while still keeping it attractive for your customers.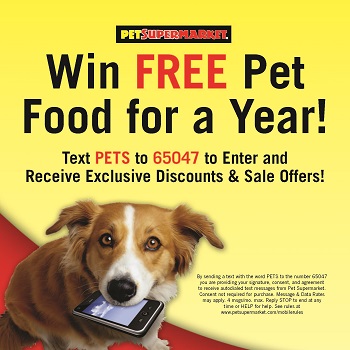 How should I set up my sweepstakes or text-to-win?
How do you decide which method to use? Look at your goals first. To make a splash and keep entry as easy as possible, use text-to-win. If you want to build excitement and also collect emails or other information, use text-to-win and an online entry form. When using both methods, you can collect mobile numbers and other information, such as emails, addresses, birthdays, and more.
A few examples:
Coca-Cola 2016 NCAA Text-to-Win with 3 Ways to Enter
Coca-Cola tied into the excitement of the NCAA finals by offering a 4-night trip for two to Glendale, AZ to attend the NCAA Men's Final Four. Consumers were asked to text the word MADNESS, use an online entry form and/or enter via Facebook.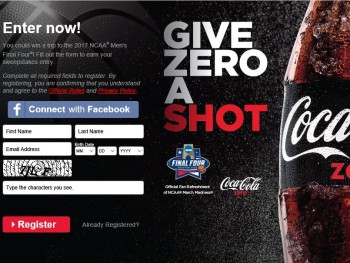 Old Milwaukee Sweepstakes with Text & Online Entry
Old Milwaukee fans had a chance to win a custom branded truck, a valuable prize that was likely to appeal to that audience. Besides texting to enter, fans could also enter online by providing their email. This allowed the beer brand to collect not only mobile phone numbers, but emails as well. Having mobile numbers is a good option when it comes time to contact the winner.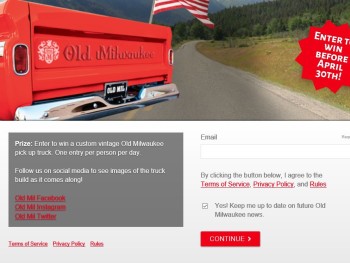 Corona Used Text and Social
Corona gave its fans 2 ways to enter for a chance to win a 3-day, 2-night trip for two to a pro-boxing match.  The first was by texting the word CORONABOXING, the second was via social media. In an obvious effort to build their network on Instagram, they asked fans to use the hashtags #coronaboxing and #sweepstakes on a photo post to enter.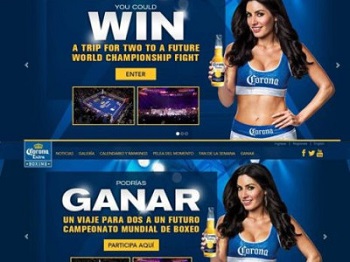 Dunkin' Donuts Used Web Only 
Dunkin' Donuts is another brand that offered a free year of product. The actual prize was 1 pound of coffee every 8 weeks for a year. (This could have been better in our opinion.) The brand only offered 1 method of entry: an online web form asking for entrants' emails. Dunkin' limited the overall appeal of this one with the prize (7 bags of coffee isn't a year's worth as far as we're concerned) and with 1 method of entry. In our experience, it's harder to reach a winner when you have email only.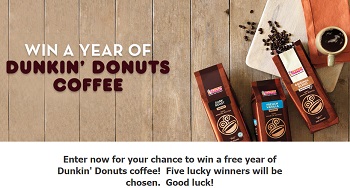 Lessons Learned?
Think about what will excite your fans most when deciding on a prize.
Don't hesitate to get creative when giving away your product or a branded item.
Set goals before deciding how to set up your sweepstakes or giveaway.
Offer text entry to keep it easy or add another method to collect emails or other information.
We hope these examples offer inspiration and spur ideas for your own text-to-win sweepstakes!
(Please note: All names and images are trademarked and/or copyrighted by their respective owners.)