HIPPEAS asked fans to "give peas a chance" during its Summer of Love text to win. This promotion hit the bullseye for the brand's positioning and is a great example of how to offer prizes that align with your target market.
That target market is the modern-day hippie. HIPPEAS (see what they did there?) offers organic chickpea puffs, a healthy snack option that is also vegan, and targets health-conscious consumers who value authenticity.
So it makes sense to offer tickets to a music festival like Wanderlust, which includes music, healthy food, yoga and outdoor adventures.
The original Summer of Love happened in 1967, when 100,000 young hippies gathered in San Francisco to celebrate the alternative youth culture of the time.
This Summer of Love offered a chance to win tickets and was a success for the brand. All fans had to do to enter was text the word HIPPEAS to the number 65047. Sweeppea did the rest.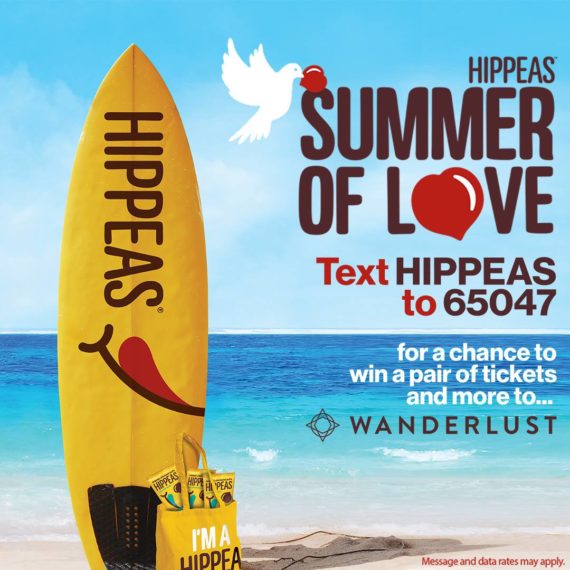 Objective:
To build excitement and awareness for the brand
To gain a database of participants to re-market offers via text message and email.
Promotional Channels:
Media publicity
Social Media promotion
Billboards
Outcome:
The brand boosted awareness and built a list of mobile participants
Prize: Winners received two (2) tickets to the Wanderlust Music Festival, airfare, 3-nights hotel accommodation, a $250 gift card to stock up on HIPPEAS supplies, and HIPPEAS Summer of Love festival gear.
To get started with your own text-to-win, see our features and pricing.