AlEn USA's popular fabric softener brand Ensueño® launched a sweepstakes with the objective of increasing brand awareness, gaining preferential in-store displays and social engagement. Traditionally focused on the U.S. Hispanic market, AlEn USA's fabric softener Ensueño® reached out to Hispanics and Anglo consumers looking to tryout an eco-friendly and budget-minded fabric softener that would substitute traditional higher-priced brands like Gain®, Snuggle®, and Downy®.
Market-Price Fit
Ensueño fabric softener price point make it an attractive product for price-conscious consumers.

Market Demand for Fabric Softeners is Growing
According to Grand View Research "The global fabric softeners and conditioners market size was estimated at USD 16.53 billion in 2018. It is expected to expand at a CAGR of 4.7% during the forecast period." Higher quality clothing is driving fabric softener sales. Grand View Research says "Rising consumer preference for premium clothes is anticipated to drive the demand for the products like fabric conditioners and softeners as they help maintain to softness of clothes."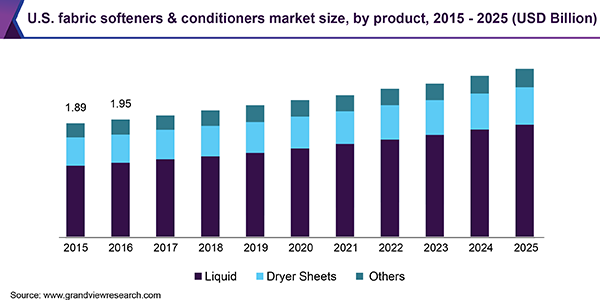 Goal 1: In-Store Displays
From a sales tactic perspective, sweepstakes yield in-store displays for brands. And displays means sales since they allows merchandisers to maximize their visibility inside retail stores as the strategic location keeps products accessible to shoppers. By offering retail partners a sweepstakes promotion, retailers reciprocated with preferential floor space and increased orders. See display pictures below.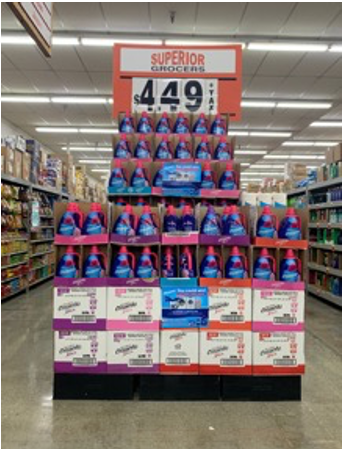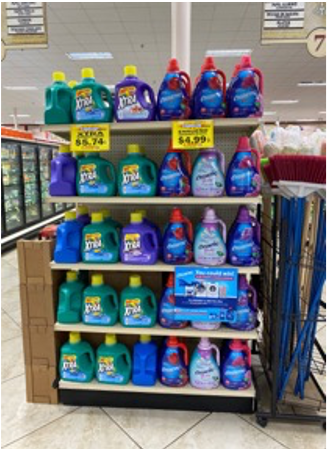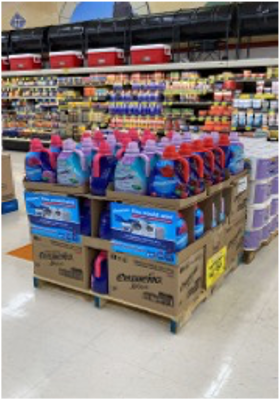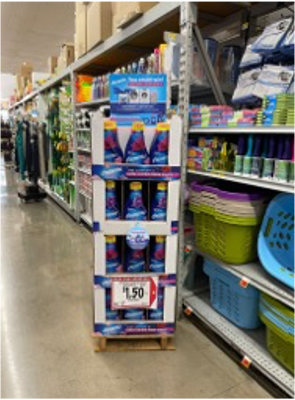 Goal 2: Social Media Engagement
Ensueño's marketing and branding agency, Brand X Marketing designed and placed all social media ads. With guidance from the brand's marketing team, Brand X placed ads on Facebook and Instagram geo-targeting Spanish and English speakers that resided near the stores where the product was sold.
Receiving well over 1M impressions, and enjoying a combined click-thru rate higher than the national average for fabric softener ads, Brand X Marketing was able to present the product in two languages and leverage a multi-state sweepstakes promotion.
The combination of social ads for awareness and the chance to win a new washer and dryer yielded a strong ROI for the brand.

Sweepstakes – Win $1,500 Towards a Washer & Dryer
Working with the Sweeppea Sweepstakes team, Brand X Marketing designed a sweepstakes that provided a Prize ($1,500 check that could be used to purchase a new washer and dryer) that appealed to the brand's customers and further aligned the product with consumer and it's intended use.
Sweepstakes Entry Methods Designed for Online or In-Store.
The Ensueño Sweepstakes methods of entry were designed to support social media ads and in-store entries. For social media, participants would click on the ads and be taken to the branded EnsuenoWin.com sweepstakes Entry Page.
For those who were shopping at retailers, the point-of-sale displays provided a keyword (ENSUENO) that could be sent via text message to the number 855-903-2946 to receive a link to the Entry Page.
The idea was to offer the method of entry that fit the environment in which the participant/consumer was at.
Leveraging the Sweeppea Sweepstakes Platform, Ensueno was able to offer text and web entry methods. This in turn helped make it easy for thousands of participants to enter the sweepstakes.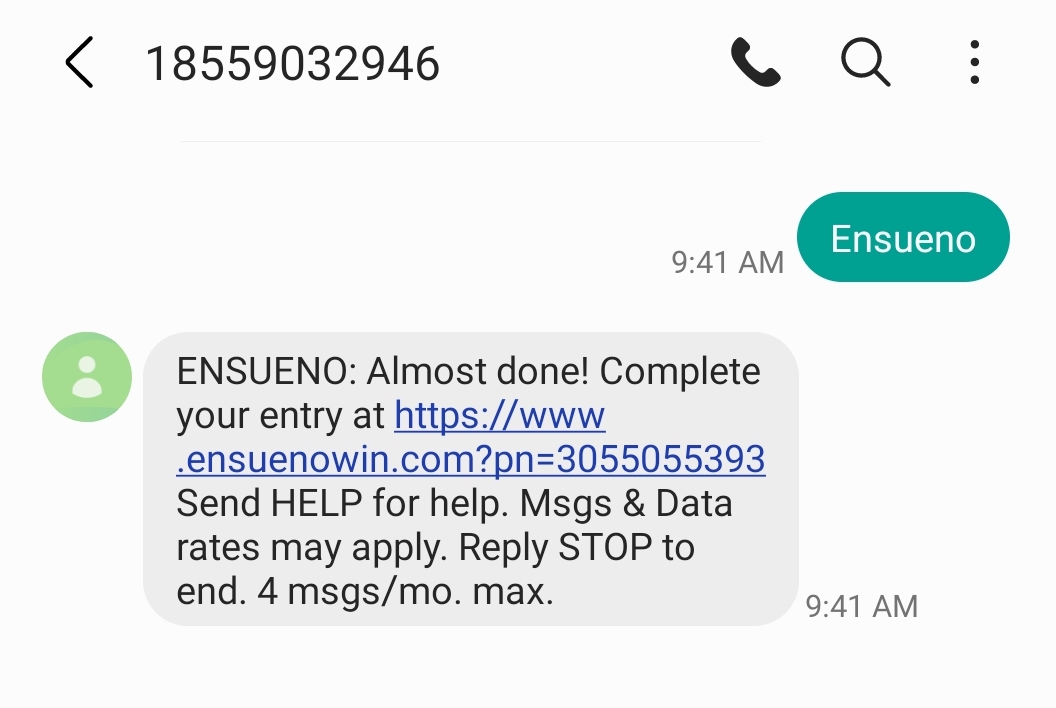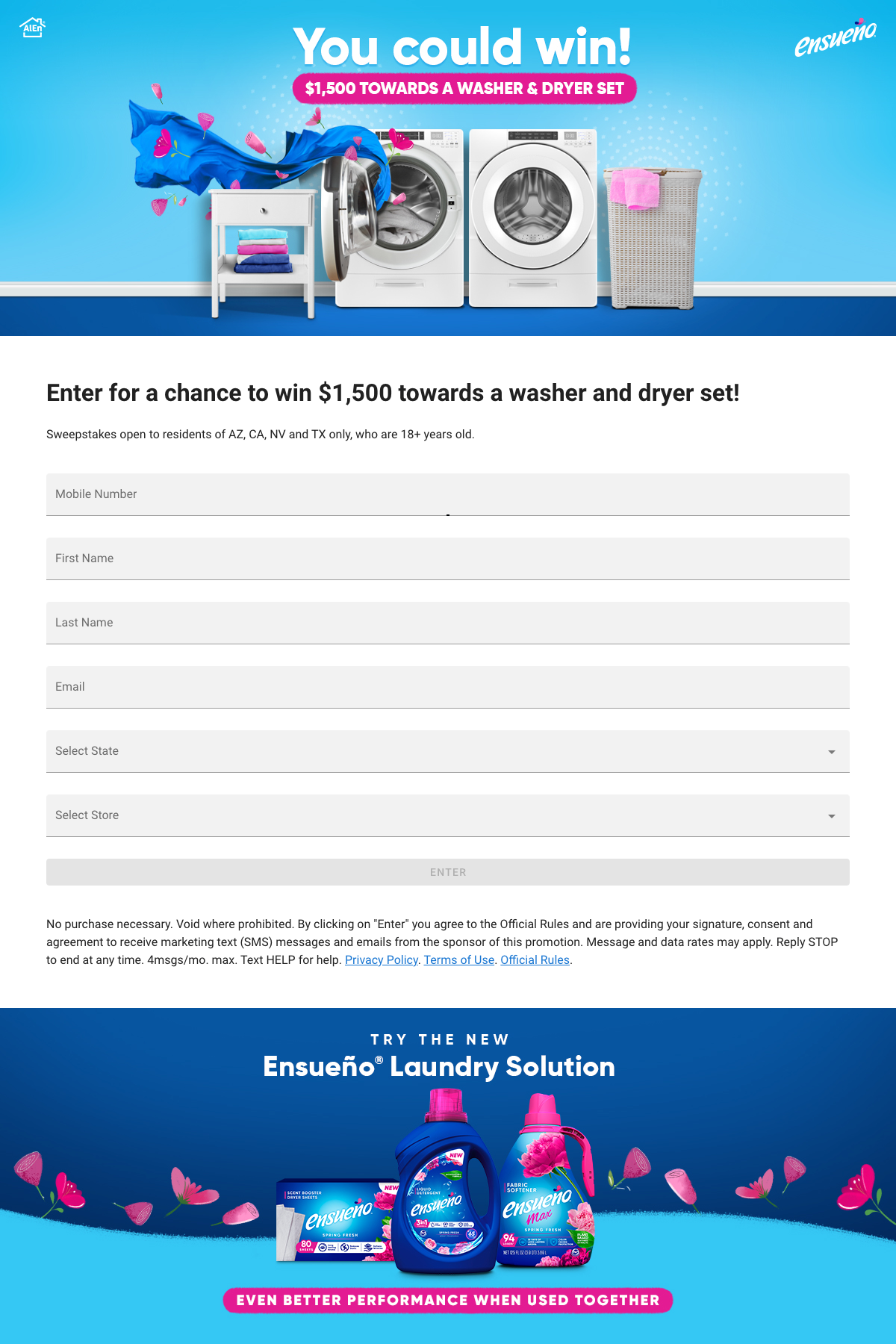 Summary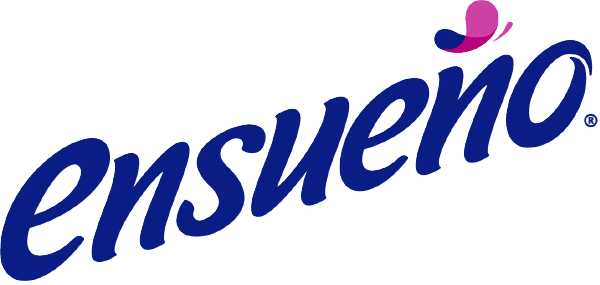 Goal 1: Gain In-Store Displays
Goal 2: Gain Social Media engagement 
Promotion: Web and Text to Win Sweepstakes
Prizes: twelve (12) $1,500.00 checks
Media: Facebook and Instagram Location Based Ad Placements
Target: US and US Hispanic Shopper by Retailer Location|Winners: 12 
Time Frame: May to June (60 days)
Results: Thousands of social engagements and participants. Retail product sales increased for the quarter.

Client Feedback: "Let's start planning the next promotion." - Ensueno U.S. Brand Team