D. G. Yuengling & Son, established in 1829, is the is the oldest operating brewing company in America and they know that staying power and market leadership comes be appealing to the ever changing customer demographics.
Hispanic Market Focus
Forbes Magazine, in their "How The U.S. Hispanic Market Is Changing This Year" mentions that there are 131 million multicultural Americans, making up 37.5% of the U.S. population, with Hispanics accounting for the largest portion at 19.6%. Knowing that the Hispanic consumer is a powerful buying force, D. G. Yuengling & Son is engaging this market by advertising to them in their native language, Spanish.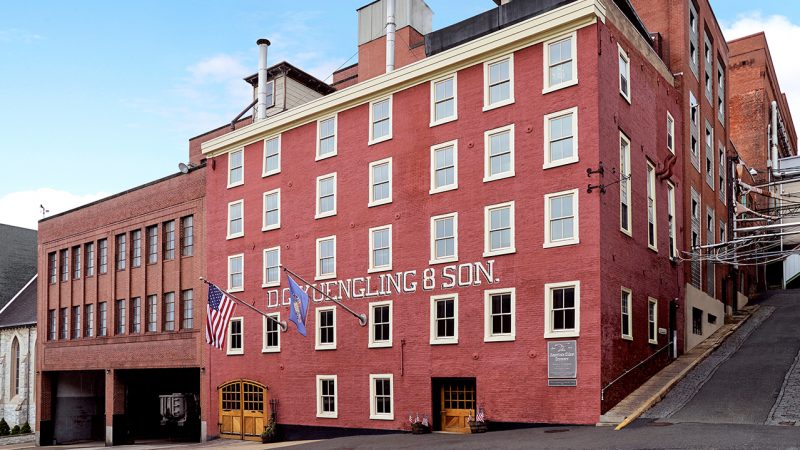 D. G. Yuengling & Son Brewery in Pottsville, PA
The Forbes article mentions that "Brands looking to reach younger consumer groups, specifically those who are Hispanic, will need to adapt their advertising campaigns to include relevant messaging and delivery at the right time and on the right platforms." Furthermore, "Because Hispanics are the youngest ethnic group in America, they have more spending years than non-Hispanics."
Retail Promotion Details
The brewery partnered with retailers that attract Hispanics buyers to offer a sweepstakes promotion in Spanish. The participants were offered the chance to win a branded, high-quality domino table if they entered the sweepstakes. Knowing full-well that consumers in a retail environment have multiple shopping tasks to complete and attention is at a premium, D. G. Yuengling & Son choose to capture consumers on-the-go, at stores, and retailers thru a text to win type of sweepstakes. Text to win promotions make it easy and fast to enter the sweepstakes. There no need to remember a website address or complete a paper entry form.
Sweepstakes Entry Method
All the participants had to do to enter was send a text with the word DOMINO1  to the number 65074 and the Sweeppea text to win platform handled the age verification (21+), collected participant's entry information (Name, email, age and state) and drew winners.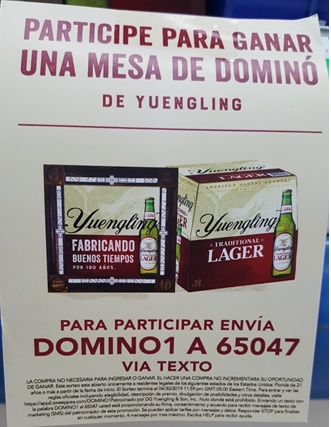 Yuengling's POS Case Card in Spanish
Sweepstakes Services
Sweeppea handled POS case cards reviews, winner drawing and rules compliance verification, prize acceptance, publicity and liability release, and prize delivery. It was a successful promotion for 'America's Oldest Brewery' and to that we say "Salud" to all beer lovers.
Objective:
Build awareness for the brad among Hispanic consumers
Engage on-the-go customers
Increase cases orders
Promotional Channels:
In-store materials at POS
Outcome:
Case orders increased
Hundreds of participants entered
A database of customers with name, age, mobile, and email was gained.
Prize: One (1) Yuengling branded domino table. Approximate Retail Value of the prize $650.00
To get started with your own text-to-win, see our features and pricing.