Loud And Live, the entertainment, marketing and media company, that produces shows for top Latin artists, like Pitbull, Ricky Martin, Juan Luis Guerra, and Ricardo Montaner, reached out to Sweeppea with the goal of building a customer list (ticket holders) to use for re-marketing efforts.
Loud And Live, had a sold-out tour for Puerto Rican singer-songwriter and reggaeton artist Farruko. The famous artist was featured in Pedro Capo's number 1 hit "Calma". With a booked tour, the Loud And Live marketing team leveraged Sweeppea's text to win platform to offer a chance to win a first-row ticket upgrade to one lucky winner before the show started.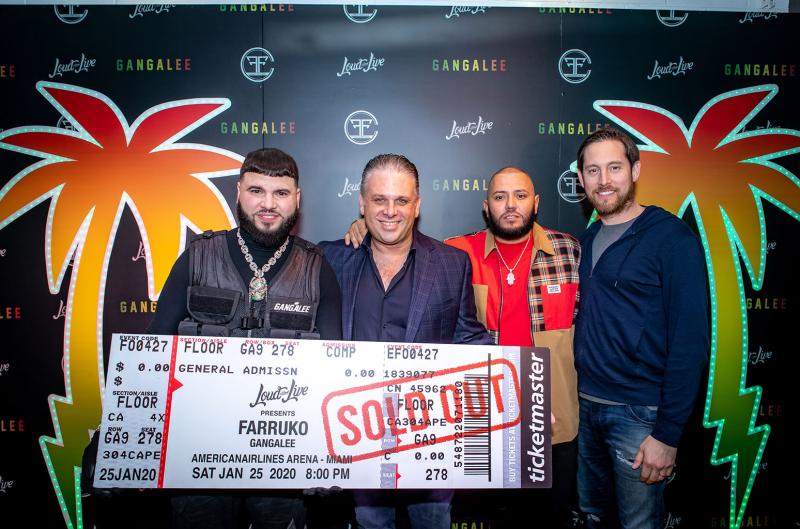 Building Targeted List of Customers
In exchange for the chance to win, the participants provided their mobile number (automatically captured), name and email. With entry, the participants agreed to receive future email and text messages from Loud And Live. A simple, text-to-win sweepstakes opened the door for the creation of a new marketing channel targeting highly desirable future concert goers.
Capturing a Customer Doesn't Have to Be Expensive
Customer Acquisition Costs (CAC) are often referred as the "new rent" on businesses because of the skyrocketing pay-per-click costs that Google, Facebook and Instagram impose. "The marketing software company AdStage analyzed it's Facebook impressions data and found that the median cost-per-click for Facebook news feed ads has risen from $0.43, during the second quarter of 2018, to $0.64, during the second quarter of 2019." Source. Sweepstakes provide tremendous CAC cost value. In this case, Loud And Live spent $39 to run the sweepstakes for 2 hours before the concert started and captured thousands of prospective customers.
Capturing the On-the-Go Customer at a Live Event
The convenience and speed of a text worked well during the shows. To enter, all the participants had to do was text the word FARRU to the number 65047. The participants would received a link to the Entry Page, capturing name and email (mobile number automatically captured) and they were in.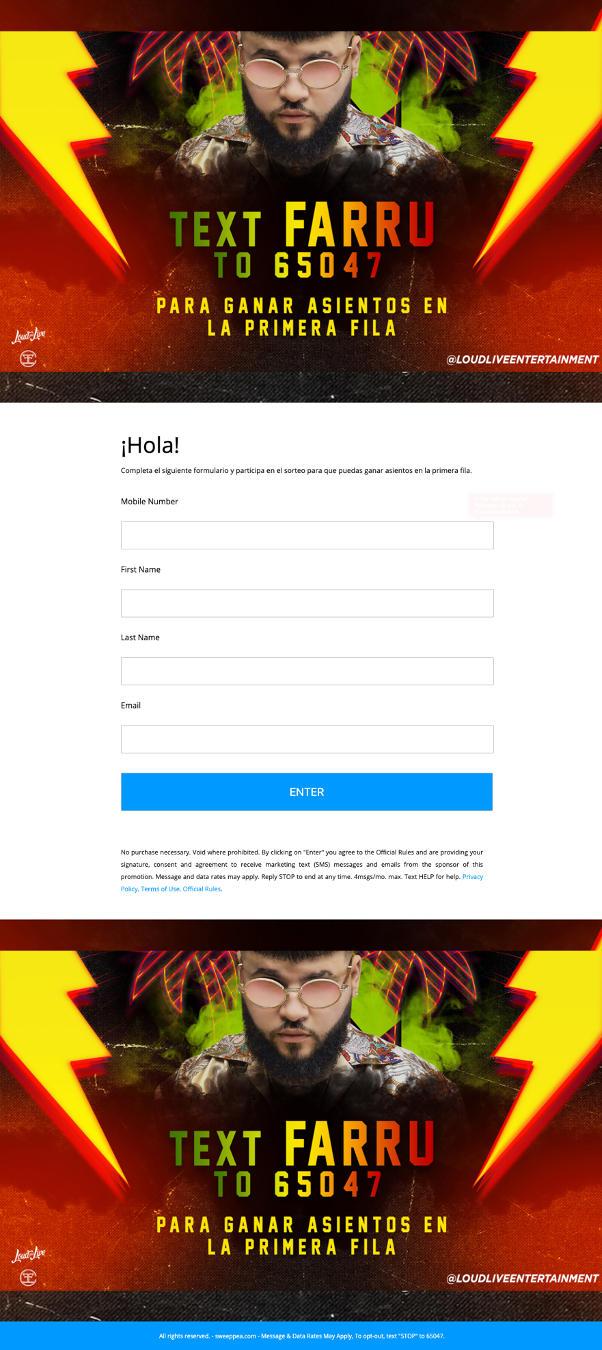 Conclusion
A text to win sweepstakes, using Sweeppea's platform, can provide a very cost-effective way to generate leads and capture customers information and permissions to receive marketing messages. All while lowering your Customer Acquisition Costs and increasing your marketing Return on Investment.
Objective
Build a list of customers to re-market future events.
Promotional Channels
Live at-venue pre-show
On-screen stage displays advertising text to win promotion
Results
A database of customers was created with their name, mobile, and email was gained for future marketing use.
Thousands of participants entered.
One lucky winner got a front row seat to the show.
Prize: Upgrade to a front row seat at the show.
To get started with your own text-to-win, see our features and pricing.