Dsquared2 promoted its new fragrance with a text to win campaign that was coupled with product sampling.
Dsquared2 is an Italian fashion house founded by Dean and Dan Caten, twin brothers who are Canadian fashion designers, radio personalities, and businessmen. Dsquared2 gained popularity when Madonna commissioned it to design more than 150 pieces for her Drowned World Tour 2001 and "Don't Tell Me" music video. The brand's runway shows have also gained attention with stars like Christina Aguilera stripping male models of their clothes and Rihanna entering the stage in a muscle car and strutting down the  runway.
The company recently launched a new fragrance Wood, described as "a sensory experience that says everything about you and your personality. It is the most distinctive and intimate element because it makes you recognizable and different in a nondescript way."
Beyond Product Sampling
Cover5, the product marketing agency, focused on placing product samples in top-tier magazines. The agency reached out to Sweeppea, looking for a way to capture information about readers interested in the fragrance.
Capturing Consumers
Sweeppea presented a text-to-win sweepstakes as the solution to collect information, while offering a chance to win a fragrance gift set. A simple-to-execute text to win sweepstakes achieved the goal of learning more about the brand's customers and generating further engagement beyond product sampling.
Sweepstakes Entry Methodology
Cover5 placed ads with fragrance strips or samples in fashion magazines and offered readers a chance to win a Dsquared2 fragrance and gift collection set valued at $500. To enter, the reader had to simply text the name of the fragrance, WOOD, to the number 65047 for a chance to win. Each entrant then received a link to the branded Entry Page (below), where they could complete their entry by submitting their name and email (mobile numbers were automatically captured by the Sweeppea Platform).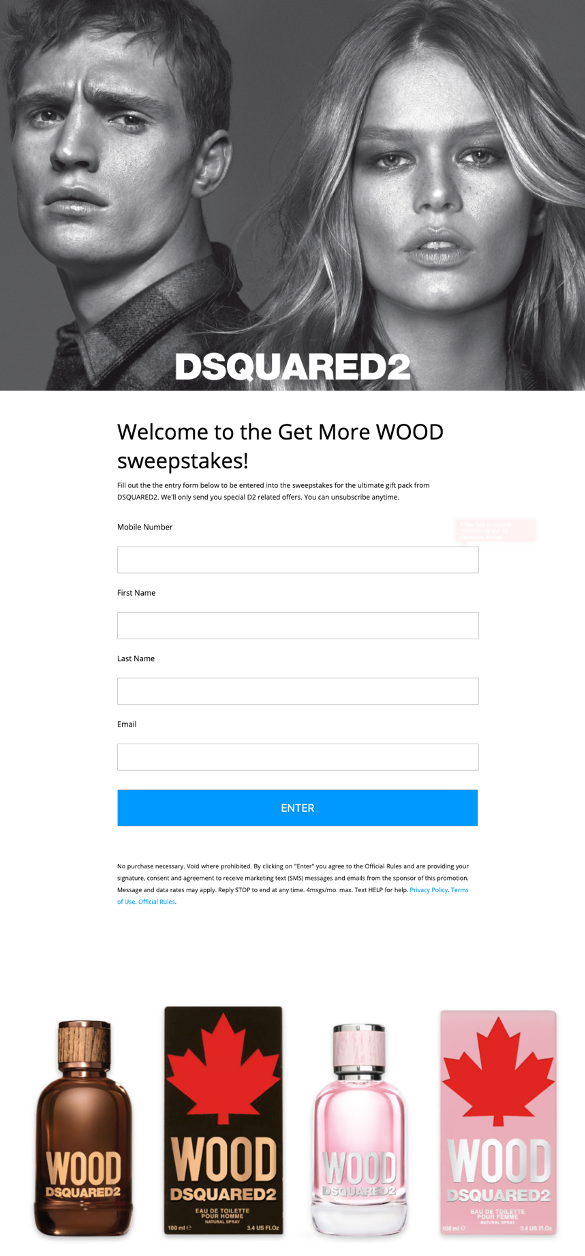 Conclusion
When combined with product sampling, a text sweepstakes can provide more than branding and awareness, it can offer an opportunity to learn about the most important type of consumers, those interested in your product.  This promotion enhanced the brand's awareness efforts and provided them with a deeper understanding of their potential customers.
Objectives
Build product awareness
Engage magazine readers
Capture customer's information for re-marketing
Marketing Channels
Results
A database of customers with name, mobile, and email was gained.
Client said "Thanks! Your platform is very nice."
Winner(s): 1
Prize: The ultimate DSQUARED2 fragrance and gift collection, Approximate Retail Value (ARV) of all prize(s) combined is over $500.00
To get started with your own text-to-win, see our features and pricing.