Hertz, the car rental company, partnered with the American Automobile Association (Triple A) and Sweeppea to design a text to win sweepstakes to incentivize AAA members to sign up for Hertz's customer loyalty program. The first 150 members of AAA Colorado to join the Hertz Gold program would win $10 VISA gift card! There's nothing better than a guaranteed prize just for signing up to a free rewards program.
AAA point-of-sale signs read, "Text GOLD to 65047 to get a $10 VISA gift card with Hertz Gold program sign up."  Sweeppea provided a fast and easy way for the participants to enter the sweepstakes promotion on-the-go. All the participants' entry data such as name, email and address were saved in AAA's account and could be downloaded at any time.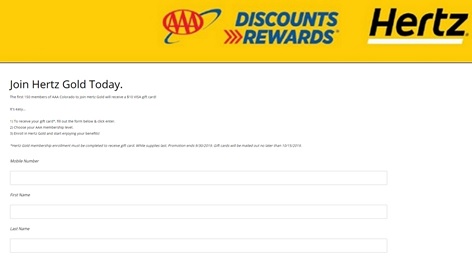 Hertz and AAA Text to Win mobile ready Entry Form 
Objective:
To build awareness for the Hertz Gold loyalty program
To reach partner customers and offer value added benefits
To gain a database of participants to re-market offers via text message and email.
Promotional Channels:
In-store materials and flyers
Social Media promotion
Other digital media (email, etc.)
Outcome:
Hundreds of participants entered
New emails were collected
A database of customers with name, mobile, and email was gained.
Prize: The first 150 members of AAA Colorado to join Hertz Gold received a $10 VISA gift card.
To get started with your own text-to-win, see our features and pricing.