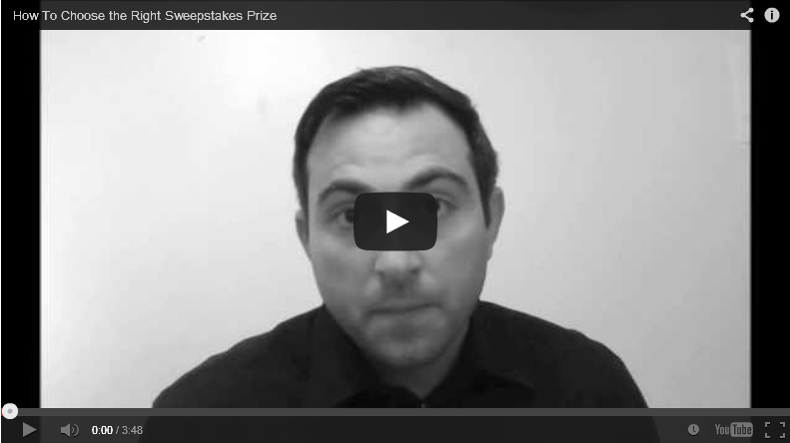 Offering a prize that resonates with your target audience is key in attracting future customers. We like to say that, whenever possible, your prize should be your product or service. If you're a pet product retailer, giving away a year's worth of free pet food is a good idea as it's something your customers would want.
But if giving away your product or service is not possible or simply not very exciting (like free tax return services or a year's worth of car insurance) this is when you need to get creative about your prize.
Yes, you can always give away cash or a gift card, but the idea is to tie your business to a prize that is attractive to your customers.
You want to be speaking to your customers even if it's through a third-party brand.
Here's what I mean… let's say you own a chain of ski rental shops. Your business is renting skis, not selling. Awarding $1,000 worth of ski gear may be out of the question, plus it does not fit your business model. Not a good mix.
What you know is that your customers are skiers and visit ski resorts and facilities.
One prize that would work very well would be an all-expenses paid ski trip to the Four Seasons Resort in Vail, Colorado, with rental ski gear provided by your business.
You get to speak to skiers, your prospective customers, by offering them something they would love to win. It's also a way to tie your brand to a bigger brand (Vail, Colorado and the Four Seasons) or a brand that reaches new customers for you.
Think of Regal Cinemas partnering with Pepsi to offer a trip to the Oscars. Regal Cinemas is piggybacking on the Pepsi brand and the Oscars event to elevate their brand and attract new customers. And you can do the same, no matter what niche you're in.
How to Pick The Perfect Sweepstakes Prize? Answer the following questions…
What market is my business in? (Sports retail, pet products, insurance, car rental, etc…)
What does our ideal customer look like? Gender? Age? Marital Status? Geographic location? Income level?
What's your budget for the prize?
What is the prize you will give away? How many?
Is the prize something that people will get excited about? Not just want, they have to desire it!
Does this prize resonate with your target audience?
Here's an example:
Market: Fashion
Ideal customer: Female, ages 21-35, single or married, income level of $45,000+
Budget: $4,000
Winners: 1
Prize: $4,000 Shopping Spree
Is prize exiting to your prospective customers? Yes
Is the prize relevant to your business? Yes
Think creatively when selecting a prize. If you are an action sports retailer, a professional photography session of the winner and friends surfing your local break would be a great prize. If you sell Ford cars, a trip to meet the 2015 Ford Mustang Master Sculptor Kevin Goff at the Ford Motor Company Engineering Design Center sounds awesome. Both prizes tie well into and enhance the brand. The right prize is key to designing a successful sweepstakes and is also fundamental to reaching new customers and elevating your brand.
Comments? Tell me on Facebook, Twitter or email me at marcos@momares.com.