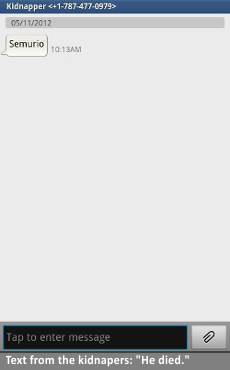 At 9:44 am on Friday, May 11, 2012, I got a call on my mobile. A voice said, "Your brother has been in an accident. He's hurt." "Where?" I asked. A male voice with a heavy Puerto-Rican accent said, "In a gas station and he is hurt pretty bad." The voice went on to tell me, "He hit my brother's motorcycle and damaged it and tried to run off." I asked "Is your brother OK?" He responded, "We have your brother tied up and will not let him go." "We can pay for the repairs!" I told him. He said, "I don't know what is going on here, but I was called in to help. He's tied up and beaten." "We can repair the motorcycle," I repeated. His voice was annoyed and aggravated: "Look, this is a kidnap and we want $1,500 now!"
I didn't know what to think
My thoughts at this point were… My brother lives in Puerto Rico and these guys sound Puerto Rican. Do they know I'm in Miami? Are they physically in Puerto Rico? How am I to pay them? I was starting to get really nervous. My throat was drying up and my hands were shaking a bit. I kept trying to remember what I had heard about express kidnappings. It's when they kidnap you and take you to an ATM for ransom. It usually happens in other countries.
The negotiation begins
"Are you going to help your brother?" he asked. I said yes and he responded, "Good. Go to an ATM and withdraw $1,500. Can you do that? Do you have that kind of money?" I thought, wait a minute, he wants to negotiate.
He was asking if I had the money, instead of assuming I had it. I said, "No, that's a lot of money. I would need to transfer…" He cut me off and asked, "Transfer?" I said, "Yes, from one account to another. It can take 3 days." The kidnapper said, "No, go to the ATM right now and take $600 out." "The maximum is $500," I said. His response was "No, its $600!" and he gave me delivery instructions. During all of this, I was frantically calling my brother's cell phone number from my office line. He didn't pick up. On my second attempt, I heard what sounded like a pickup, a pause, then a disconnect tone. I called again and it went straight to voice mail. The kidnappers have my brother's cell phone I thought. I tried my brother's wife and she didn't pick up either. The voice said, "Get in your car now and drive to an ATM." Does this guy know I'm in Miami, I wondered? I couldn't get him the money physically. I took a bold step and said, "I'm not going anywhere until I speak to my brother." He didn't like that. "No. Do as I say!"
I was beyond nervous
"How do I know this isn't a prank call from a radio station?" I asked. He started laughing condescendingly and told someone with him, "Rafi," that I thought this was a radio station prank call. Rafi said, "That's it, I'm going to kill him now." The voice started shouting "Is this what you want, the death of your brother on your conscience?" At this point, I was beyond nervous, I was scared. I heard Rafi moving and I could hear faint background noise, like a crowd, but I couldn't make it out. I started pleading, "No, no, no, I will help. Please!" And like in a movie, I braced to hear a gun shot. I told the voice, "Look why kill him, he is useless to you dead and then you'll have to deal with that problem. I told you I will help." The voice said, "Go to your car now and drive to an ATM." All of a sudden, I got a second call on my mobile, from a phone number I didn't recognize. I asked him "Someone is calling me, can I answer?" "No," he said. "If you hang up, I will kill him." As he explained what he wanted me to do, I tried to dial the number that just called, hoping it was my brother's wife.
"Rafi, get the gun"
The voice then asked, "Who is Marcos Menendez?" I was freaking out by now. The kidnappers must have seen my caller ID on the other phone number and thought I was trying to call out for help. The voice again asked, "Who is Marcos Menendez? Huh? Answer me!" I said "Who? Mendez? I don't know." He asked, "Is someone calling you on the other line?" My mobile was flashing with another call, but I said "No, no one. Can't you see I'm talking to you?" The voice said "I'm tired of playing games with you. I'm going to give the order to execute your brother. I'm done fantasmeando [playing around] with you. Rafi, get the gun." I started begging, "No, please don't shoot. I'm on my way to the car right now." Trying to get a grip on the situation, I asked him, "How do I know you won't kill me or my brother after I pay you?" His tone of voice changed, from slangy, reggaetonero to reassuring and comforting: "I know you might feel insecure about the exchange. That's why we will do it at a public place like Winn-Dixie Supermarket." I went dead cold. They knew I was in Miami. There are no Winn-Dixies in Puerto Rico. They kidnapped my brother in Puerto Rico, I thought, and knew I could pay them in Miami. "What are you doing now?" the voice asked. "Tell me!" I said, "I need to get dressed to go to the ATM." At this moment, my mind was exactly where they wanted it – in compliance. I was broken, scared and worried about my brother. Fear got the best of me. I dismissed any fleeting, rational thoughts, gathered my keys and proceeded to my car, only to realize it wasn't there. I forgot my wife needed my car for something that morning.
"We have a problem"
I didn't know if I should tell the kidnapper I didn't have a car. I asked, "Can someone else deliver the money?" "If it's not you, we'll kill him," he said. "We have a problem," I told him. "I don't have a car." He got irate, cursed me out and continued to threaten me. I told him not to worry. I could walk to an ATM. At that moment, my mobile phone flashed with another call. It was my brother. I couldn't resist picking it up. "Is that you?" I asked. My brother answered: "What do you want?" My heart dropped. Oh man, was I relived.
My brother laughed
"You haven't been kidnapped?" I asked. My brother started laughing. "You got called? It's a hoax," he told me. "They're trying to extort money from you. I'm okay. I was busy with a client. That's why I didn't pick up when you called. Tell them to go to hell," he said. "They tried that on me two years ago." I heard the click of a disconnected line and remembered I left the kidnapper on hold. Then I got a text message, "Semurio." Poorly spelled in Spanish: "He's dead."
It's a scam
I later called the FBI to report what happened. They took my information, but the lady nonchalantly said it happens all the time. She would send the report to an agent and I might get a call. I guess it wasn't of major importance, since no money was involved and no one was really kidnapped. But if the FBI isn't going to move on this, at least I can let others know. What happened to me is a scam for money. It felt very real and scary to me, but fortunately, it was fabricated. I uncovered various forums and a news article about this scam. I also searched the phone numbers on caller ID from the "kidnappers." Both numbers, 787-477-0979 and 787-624-4234, have Puerto Rican area codes. My advice is to save those numbers on your phone and if you get called, don't pick up. I know this is a mobile marketing newsletter where I mostly talk about my business marketing experiences. But I thought this was especially important to share and this was the best way to get the word out to 8,000+ readers.
Ironically (and especially for me), the easiest way to have reached my brother would have been a text message. He would just have replied and the ruse would have been uncovered. Even the criminals thought a text message was a good way to communicate a powerful and direct message. And I can tell you from experience, it worked.
Has this happened to you? Comment below.